Post by matti on Jun 1, 2020 12:21:20 GMT -6
||| KAMIYA KANAKO |||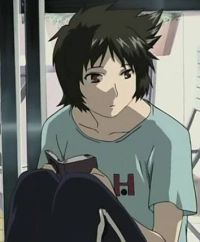 Maggie Miu ;
Read Or Die
---
#Name ;
Kamiya Kanako
#Age ;
16
#Gender ;
Female
#Sexuality ;
Bisexual
#D.O.B. ;
February 9th, 1986
#Occupation ;
Student
#Year and class ;
2-B
---
---
#Height ;
6'1"
#Physique ;
Tall, slim
#Hair color and style ;
Short, black
#Eye color ;
Brown
#Clothing styles ;
Kanako usually just wears shirts that are slightly too big on her and high-waisted jeans (usually with the shirts tucked loosely into them). She also has a penchant for cuffing her jeans. She wears sweaters during colder seasons, such as winter and autumn.
[/blockquote]
---
---
#Personality ;
Kanako is unabashed herself.

She's gown up in a society that puts heavy emphasis on conformity and being 'normal'. She was often belittled and guilt-tripped by adults in an effort to force her to comform to society's social norms. Unfortunately for them, this seemed to have the opposite effect — it fueled her desire to stand out, to be loud and obnoxious. She doesn't want to spend her entire life trying to be Japan's idea of a perfect, dainty innocent little girl who never does anything wrong. She just wants to live her life to the fullest, and if someone wants to try and stop her, they'll have to drag her kicking and screaming (and they'll probably fail anyways.)

She has a reputation amongst her peers for being aggressive and scary, and people often steer clear of her because of it. This couldn't be further from the truth. She's simply a person who stands her ground and calls people out on their bullshit. She doesn't tolerate people treating her badly and people think of her as rude because of it. If you're a decent human being, then you have absolutely nothing to worry about in regards to her being cruel to you. She's actually a very kindhearted person who always tries to do the right thing. Of course, she does have her moments of being cruel or taking the low road, but that's because she's a human being with flaws.

She definitely isn't perfect, and she knows that. She's passive aggressive, stubborn to a fault, rarely ever listens to others even when she knows they're right, and is prone to getting defensive when people point out her negative traits. However, she understands that nobody can be perfect. She can work towards becoming a better person, but at the end of the day, she's still going to have some faults. There will always be people that dislike or maybe even hate her, and that's okay. She's here to live her life and have a fun time, and doesn't really want to spend her years trying to please everyone. That's both stressful and not even humanly possible.

Besides, she also has lots of positive traits. She's extremely kindhearted and tries her best to be empathetic towards others, even when sometimes she struggles to understand or relate to someone's problems. She also has a strong sense of justice and is always the first person to stand up for others. She has actually gotten into multiple arguments with teachers because they were, in her opinion, being much harsher than need be on a student. She's frequently in detention because of this and there's even a rumor going around that she punched one of her teachers before. Needless to say, no authority figures look very kindly upon her.

Kanako loves adventure above anything else. She strives on recklessness and impulsivity, on running through the forest barefoot even though it makes her feet hurt like hell because it gives her a sense of freedom. She climbs trees in skirts, even though her mom always told her not to, because what does it matter to her when she feels like she's on top of the world? Of course, this attitude can and has gotten her into trouble many times. She's also often been told that she needs to 'grow up' and 'act like a proper lady'. But that won't stop her. She feels as though there as nothing more raw and powerful than being a teenage girl, and nobody is going to take that experience away from her.
---
---
#History ;
Kanako was born on April 15th, the youngest child to an accountant and stay-at-home mother. She had two older siblings, one boy and one girl. They were completely normal, the dictionary definition of a 'picture perfect family'.

Kanako's older siblings both exceled in their respective areas. Her older sister was a prodigy when it came to art and music, and her older brother could definitely look forward to a job in the science or math department when he grew up. Their parents boasted about them every chance they got, even when nobody cared. They'd find any excuse at all to talk about their precious and brilliant children, regardless of whether it was relevant to the topic at hand. They were those kinds of parents. Honestly, it was extremely annoying.

Kanako, on the other hand, was rarely mentioned other than when her parents talked about how tall and beautiful she was getting. There wasn't really anything else to say about her. It's not that she wasn't good at anything. She was good at climbing trees, at catching frogs to show her mother because she thought they looked cool, at coming up with quick-witted insults when other people were mean to her. However, none of those things could really be bragged about (and some were a little embarassing), so her parents just didn't bring her up.

It was around middle school when her mother and father began to put more pressure on her to be 'normal'. She was actively discouraged from pursuing things she enjoyed and sometimes even mocked and belittled by her parents. Her siblings always defended her, but this was around the time that they both left for college, so neither of them could really stand up for her unless they were visiting. Kanako just had to deal with it herself. Fortunately, it did give her pretty thick skin and she can deal with people being mean.

It didn't have the effect her parents had hoped. She still did things she liked and refused to let anyones' opinions stop her. Honestly, the only thing they succeeded in was making their daughter very cold and distant towards them. She stopped coming to them with her problems, only interacted with them when forced to, and never tells them what's going on in her life. They've attempted to make her open up more, but so far this has only been met with hostility and annoyance.
---
---
The Roleplayer's Corner
#Nickname ;
Matti
#Age ;
15
#Roleplay Experience ;
I've been roleplaying for quite a few years now.
#Experience with Clannad ;
I'm getting onto it, but haven't watched a lot yet.
#How did you find us? ;
Looking for roleplays online.
#Sample Writing ;
(note: the character in this sample writing is nonbinary, hence the gender neutral pronouns throughout)

I'm scared...!

Tomie looked around the room, dark eyes darting in every direction — from the fallen bookshelves to the shattered windows, to their classmates huddled in the corner of the room and staring at them as if they were some kind of monster, a feral animal that needed to be put down.

They collapsed on the ground, hands pulling so hard at their hair it felt like their scalp was about to be ripped in half. They could feel the glass from the windows digging into their knees, embedding itself into their skin and turning the gray carpeted floor into a crimson red. It hurt. It hurt so, so bad, but the pain was what grounded them and reminded them that they were, in fact, alive.

A scream erupted from their throat, tearing through them like a blade. It was a scream of wild panic. A scream of hysteria and disbelief, bordering on terror. It didn't necessarily help with anything — the classroom was still a mess, their classmates were still terrified, and they were still bleeding — but holy crap did it feel good to get all those emotions out in one long, animalistic shriek.

...And, once their voice finally gave out, nausea crept from their abdomen to their head and the world went black.