Post by Deleted on Dec 8, 2012 8:19:27 GMT -6
||| Hanami Noriko |||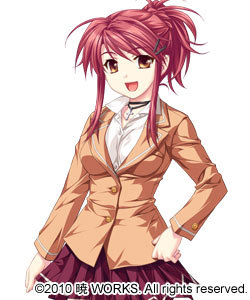 face claim ; Rui Mimamoto from Rui ha Tomo o Yobu



---

#Name; Hanami Noriko
#Age ; 16
#Gender ; Female
#Sexuality ; Unknown, in the sense she hasn't been overly bothered with relationships.
#D.O.B. ; 26th December 1987
#Occupation ; Student
#Year and class ; 2-B


---





---

#Height ; 5'1"
#Weight ; 100lbs
#Physique ; Slim, slender and athletic.
#Hair color and style ; Noriko's hair is a fiery red and is usually kept up in a tidy ponytail (although there are the occasional strands here and there). When let down, it flows like waves down to her waist.
#Eye color ; Warm Brown

#Clothing styles ; Noriko's clothing of choice is smarter sort of casual clothing, meaning a shirt, jacket and either jeans or a skirt and tights. Her shoes are always her black running shoes, as she never knows when she may need to run to catch (or get away from) troublemakers.

#A more thorough description;


Noriko stands at a modest height of 5'1". While she may be shorter than most girls, she's often complimented on having a body that most girls would die for (compliments she will very quickly dismiss). Her hair is generally the first thing that catches people's attention; it's fiery colour pronounces her ambitious personality, and when put up, it shows her professionalism. However, in the words of Noriko, "Yes, I'm a redhead and I don't like hair in my face. It's that simple."

While she wears her uniform proudly in school, Noriko is happy to trade her blazer for a black or brown leather jacket. Her skirt is exchanged for a pair of jeans or a black skirt and tights, and her shoes are instantly replaced for her running shoes.

On the rare occasion that she's not busy researching or training, Noriko may opt to wear a dress. She's not a fan of them however, as she feels that they make a girl look more fragile than they really are.




---





---

#Personality ;




Friendly
One thing that Noriko always tries her best to be is to be friendly. While she may not particularly want to befriend somebody, she will still put the effort in to cheer somebody up, regardless of whether she knows them or not. She hates to see others upset above all. She'll also offer help if anything needs doing, no matter how minor it might be.

Cautious and independent
One thing that should be noted about Noriko before you speak with her, is that she doesn't take compliments very well. At all. It's not that she doesn't like them, she just simply doesn't know how to respond to them, and so usually ends up walking away or dismissing the compliment altogether. This has resulted in her becoming rather direct towards people, as well as somewhat distant. She'll be happy to help people out however she can, and has many friends. Very few can be referred to as 'close friends'.

While she loves company, Noriko fears being betrayed above all else. This has led to her becoming very self-reliant (and seen somewhat as a hypocrite due to her helping others).

Professionalism
Noriko, while still being just a child, has already started to look towards her future, and thus comes across as being very professional. With family in the police force, and with ambitions to follow suit, Noriko has developed a very strong sense of right and wrong, and is happy to prove her point, with verbally or physically – although this often ends up with her in more trouble than the 'culprit' – and has been referred to as the school's 'Private Police'.

Family is everything
With her father and brother in the police force, the Hanami family has become very close-knit. After all, they never know when one of them may have to leave for a long period of time, or whether something might happen while they're on their shift. Noriko is incredibly close to her brother Kento, who supported her when she decided to follow in their footsteps. Despite her mother being against the idea, the two of them spend a lot of time together, time that Noriko treasures.






---





---

#History ;


Noriko was born into a fairly simple family life in Hikarizaka. Her mother runs a launderette next door to their home, allowing her to be close to home to look after her children, while Noriko's father was a police officer. As she grew up she was taught the difference between right and wrong, and how the justice system would catch those who did wrong. These teachings meant that Noriko never dared to lie, as she believed those who lied to get what they wanted were some of the worst people.

As she grew, so too did her respect for her brother. Kento was 8 years older than she was, and was incredibly intelligent. He also followed strongly in their father's footsteps, collecting books on law and training to join the force himself. It was her brother's lust for the job that led to Noriko researching it more herself. At the age of 9 she found a book he'd left on the table. Despite it being filled with details of gruesome and horrific crimes, Noriko sat and read through it almost unfazed. There was only one thing in the book that scared her, and that was one particular case where the culprit was the victim's brother. This story frightened Noriko. How could anyone hurt family? Kento discovered Noriko the following morning, crying on her bed with the book beside her open on the page with that particular story. After calming her, Kento assured his younger sibling that he'd never hurt her. To re-affirm this, he returned from school that evening with a necklace for her to wear. She's never removed it from that day.

As time went by, Kento left school and joined the police force. His new job meant he wasn't around so often, thus leaving Noriko with her mother. As years went by, and as she saw Kento becoming as respected and intelligent as their father, Noriko began to consider her own future. She began training daily, running laps around Hikarizaka. In school she would spend half of her time in the library looking more into law and how the system worked. The other half was in lessons, with her favourite lesson being Sports/Gym, as it helped her to become more agile and more alert.

When the time came for joining a high school she was recommended to Hikarizaka for her athleticism and her intelligence. She was thankfully accepted. However she learned very quickly that she would have competition from others. There was a girl in the year above who was far more intelligent than Noriko could ever hope to be without spending all her time in the library. Then of course there were the dedicated sports students, who were as fit, if not more physically fit than she was. This initially put her off of the idea, but a talk with her father and brother pushed Noriko to focus on what she'd been doing before; balancing her intelligence with her athleticism.

As she enters her second year, Noriko has already tried to obtain the role of School Council President, falling short to her classmate Sakagami Tomoyo. Nonetheless she remains on the council, and is using it as experience to use for when she leaves, and can (hopefully) join the Police Force alongside her brother and father.






---





---




The Roleplayer's Corner


#Nickname ; Legacy/McLeggers

#Age ; 19

#Gender ; Male

#Seen the anime/played the visual novel? ; Seen the anime. I want to play the visual novel though.

#How did you find us? ; Finished watching the anime and decided to find a Clannad forum. Thus I found you guys.


#Sample RP ;


Here she was again. The school library. Noriko walked through the silent aisles, passing books on history, mathematics, chemistry. As she reached the back of the room she turned down into another aisle, and ran the tips of her fingers gently across the shelves. It was surprising how little dust there was on these shelves, or rather it would have been had it not been for the fact Noriko was the one who'd dusted them off in her first visit to the library. About a third of the way down the aisle she stopped abruptly and looked at the book her fingers were now rested on; 'Law in Modern Society'. It was a book she'd read countless times, but it was a book she could rely on to be accurate. With a soft smile the redhead pulled the book from the shelf and walked towards the centre of the library to the table.

She placed the book as softly onto the varnished surface as possible so as not to damage its cover, before slowly opening the book. Within moments of opening, her mind was swept away into the world of Law and Justice. A land she felt so at home in. A world where all crimes were solved, criminals were apprehended and people could live without fear. It was odd how a book about law enforcement and criminals could make a girl feel so at ease. Just as she was getting into the book again, Noriko suddenly sat bolt upright.

Was that…shouting?

She slammed the book shut and placed it into her bag, before rushing to the doors and peering out – albeit with difficulty – into the corridor ahead. Sure enough there was a stand-off between two boys. Opening the door as quietly as she could, Noriko snuck out and hid behind a locker to listen closer. Although she couldn't hear exact words, it was clear that the larger of the two was bullying the smaller boy. Peeking around, she took at look at the two.

The victim; a little taller than she was, perhaps about 5'4". Scrawny, glasses, his bag in his arms. A stereotypical 'geek' really. His emblem was Green, meaning he was a first year.

The culprit; Stood around a foot taller than she was, around 6' easily. He was of average build, but he was larger than the victim so that was an advantage of course. She noted that his right hand was curled in a fist, meaning that this would probably turn violent soon. She also noted that his emblem was red. He was a second year like her. Coward.

Noriko knew she had to act fast. She placed her bag on the floor and opened it up, pulling out some silver-ish contraption. As she got to her feet, she cleared her throat quietly. Time to make use of her training.
She stepped out from her hiding spot and walked down the corridor, directly towards the two boys. The younger of the two saw her first, and his eyes widened. He was about to shout out to her as she reached the top of the stairs when she suddenly fell forwards. The older student quickly rushed to her aid.

"Are you alright? You should be more careful. The cleaners never dry the floors properly."

Wow. It had worked like a charm. Now for the finishing touch. Noriko pushed herself to her feet and dusted herself off, before looking up at the older boy. "I'll be fine. May I ask what's happening here?" she asked softly, a friendly smile painted across her face. The older student wasn't quite sure how to react at first. He couldn't possibly reveal his initial intentions to this girl could he? He didn't want to scare her off. With a glare, he turned to face the younger boy. "Beat it kid. Be more careful who you cross in future." The younger boy fled immediately, nodding in appreciation at Noriko. The culprit then turned to face Noriko again with a smile. "We were just talking. He got on the wrong side of the wrong people."

Noriko nodded to show she understood. Job done. She'd helped the younger student. "Alright then. Thank you. I'll see you around." She was about to return to her bag when the boy suddenly stepped in front of her. "Hold on a minute…you were headed the other way…what gives?" Clearly this guy was a little smarter than his first impression gave out. After a moment he figured out exactly what she'd done. "You interfering little b-"

Too late. Noriko lashed a powerful kick at the back of his knee, knocking him down to one knee. Using the momentum, she quickly slipped behind him and snapped his wrist into one half of her contraption, before attaching the other half to the railings of the stairs. She'd handcuffed him. "Mind your tone." She growled, before she walked back to collect her bag. When she returned, a sigh left her lips. The boy was still there. But so was a teacher. This was going to be fun to explain.

If he'd just let me leave…

"Miss Hanami. Care to explain?"

Crap...





[/size]