Post by aisaka on Apr 26, 2012 21:04:28 GMT -6
::Aisaka Taiga::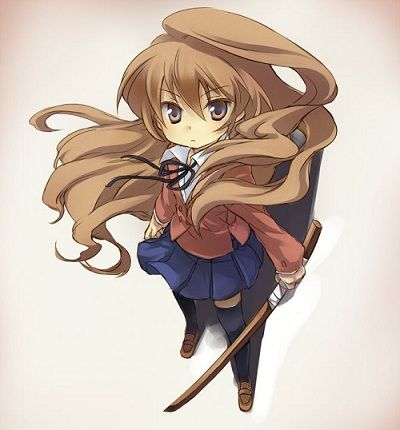 Type:
Original.
Age:
17.
Year and Class:
3-B.
Gender:
Female.
Sexuality:
Heterosexual.
Face Claim:
Aisaka Taiga from Toradora.
Description:
Taiga is a girl noticeably short for her age, standing at around 4'8 in total. The subject of her height and undeveloped body is one she almost always avoids, or simply responds to with violence or hostility if brought up in conversation. She seems incredibly sensitive about the subject, and the fact that she'd gained a nickname from the basis of her appearance and attitude alone surely was nothing close to a boost of self esteem.

Taiga is also rather slim, with long brown hair and hazel eyes. Some could describe her teeth as 'fangs' at times, though the likelihood of any actual truth behind those claims says otherwise. She can defined in simple terms as a 'cute' girl, retaining a youthful and somewhat charming appearance that only really flourishes during her times of curiosity or innocence, not so much during her tantrums.

Outside of school, Taiga seems to possess a decent sized wardrobe, her clothing varying every day with things like dresses or tops and skirts. She always keeps herself clean and healthy despite poor dietary habits one might witness from her at times. All in all her small stature and petite frame conceal her true strength and ferocity fairly well.
[/size]
Personality:
Taiga is a selfish, self-centered, brutally honest, short tempered, hostile, and impatient girl. It is extremely difficult to approach her as a newcomer in her life, as she seems to be incapable of stomaching another's company, let alone converse with them or get to know them. How her close friends came to get her to welcome them into her heart is a mystery to everyone, as it seems to be impossible to do so with anyone else.

Taiga's anger sprouts somewhat from her feelings of self-loathing, dissapointed with her body for being shorter and more undeveloped then girls her age. Her small stature and habit of lashing out at others has granted her the nickname "The Palmtop Tiger". Though when referred to it in person she's likely to beat up whoever says it, it's a title she awkwardly respects as a method of being feared and only referred to in quite and secretive conversations. When angered Taiga will shout out a cry that sounds something like "ora", but she rolls the R to resemble a tiger's roar.

Taiga is also rather clumsy though she'd sooner die than admit it. She has a habit of messing things up, tripping on air, or stammering when placed under pressure or embarrassment in conversation. She'll often space out if mesmerized by something she holds great love or interest for, adding to her careless behavior. She also can not cope with embarrassment at all, often slamming her head up against the chin of the one who placed her in the awkward situation as both a sign of shyness and punishment.

Although, known only to Taiga's friends, she possesses a deeply caring, kind, and sweet side to her when it comes to people she holds close. She can be calmed form even the worst of tantrums in an instant just from the sheer presence of someone like Minori alone; and will often be seen acting much more adorable and friendly around her friends then anyone else. Her young and beautiful appearance has also made her the target of numerous boys' hearts, being confessed love to quite often, and rejecting each and lost one of them.

She is a cruel person who concerns herself more with her own goals and desires than anyone else's, but past the tough and difficult front she always seems to put up, there's someone beneath that has yet to flourish, someone with potential for kindness and hospitality. Of course, Taiga enjoys keeping that person locked away in the deepest depths of her heart, she finds it more fun that way. Being kind has never gotten her anywhere to begin with.
[/size]
History:

Taiga was originally born into a very successful family; though her childhood was distraught with depression from her parents constant arguing. Once her father's business became bankrupt, he ran off from home, leaving Taiga and her mother all alone. Soon enough her mother remarried, and things were alright at first. However, Taiga had quite a bit of difficulty accepting her step-father and step-siblings, to the point of where she could no longer take it and moved out, deciding to live on her own in a large and well-furnished apartment that her father paid for.

Taiga allowed her heart to become cold, living alone and secluded, only managing to share a small portion of her daily life with the one best friend she makes, Minori, a girl who despite almost any situation is able to smile and cheer others up. Taiga admired her hard-working nature and bright spirit, and since has become extremely attached to her, looking to her for guidance and help whenever necessary.

Taiga fell in love with a certain boy at school, thought no one could really tell what had made him out of all the other boys who had fallen for Taiga, special. Regardless - the boy ended up confessing his love for Taiga, which she without thinking, rejected rather coldly. She regretted it deeply afterward, having only refused because of her stubborn nature and fear of others perceiving her as soft or weak.

During her time spent alone Taiga had time to practice plenty of things, such as swordsmanship. She became quite skilled at it, and has gone so far as to use it to combat another classmate who'd angered her. To anyone else it may be a simple practice sword, but in Taiga's hands its a practical weapon of mass destruction.

However, considering the life she was originally raised in, Taiga does not know how to preform daily household chores as any other person would, and therefore her home is fairly messy at times and her meals are almost always store-bought or eaten at a restaurant. Eventually Taiga came to befriend a boy named Ryuuji after he caught her sneaking into his home to retrieve a love-letter she accidentally mailed to him when it was intended for someone else.

She tried to beat him unconscious with her sword in hopes of erasing his memory, though he managed to evade her and she soon collapsed from exhaustion and hunger. He cooked for her, conversed with her, and made a promise to her that if she left his home that night instead of remaining and keeping him up even later, he'd help her earn the love of the boy she rejected, who just happened to be a close friend of Ryuuji.

From there on out, Taiga used Ryuuji as another means of life, eating and spending most of the daytime at his home when she wasn't at school or sleeping in her apartment. They lived a window apart, having about five feet between her window and his balcony, hence why it was so easy for her to sneak inside. With time Taiga was soon considered to be part of Ryuuji's family, consisting of him, his mother, and their strange pet bird.

As the school year progresses, Taiga continues to true aiding Ryuuji in earning the love of her best friend Minori, as she discovered he held a deep caring sensation for her when they first met, whilst Ryuuji simultaneously tries to bring Taiga closer to his best friend, Yusaku. Things never seem to fully work out however, and as the year progresses onward things become more complicated. Yusaku, having fallen in love with the student council president, confesses his love to her and is, just like with Taiga, rejected. Only this time in a joking manner in front of the whole school. He falls into depression, and in a furious rage Taiga assaults the girl. Both battle each other fiercely and end up with bruises and cuts. Taiga is suspended for a while.

Swiftly becoming fed up again with her life spent where she was, just as she had with her mother, she ran away and moved elsewhere to try starting again. Though this decision did not come lightly, the chain of events leading up to it only turned out to be an unfortunate coincidence, misleading Taiga into believing her friends no longer cared for her. This rather cruel misunderstanding became an irreversible decision. On her own, living alone again in an apartment in a small town named Hikarizaka -- a sort of odd choice, but she believed perhaps somewhere secluded with a genuine small-town feel may have better quality people then the places she'd been before. It took a while for even her to believe she'd simply left everything behind once more. She was determined, however, to set things right once again. She transferred into the local Highschool, and it seemed like a nice enough campus for her to waste the rest of her school years impatiently learning about different subjects she held little interest in.
[/size]
Controller's Information
Nickname:
Kaze.
Age:
18.
Gender:
Female.
Seen the Anime/Played the Game?:
Both~
How Did You Find Us?:
Google.
Sample RP:
Since I play Nagisa as well, I.. suppose I could.. just put a sample of the threads I've been in here? If that's alright.
Also, I wasn't sure if there was a rule about using.. other show's characters actual names? Or, maybe I just didn't read everything right. If I'm wrong I can just delete this app anyways.
Alone.. it wasn't exactly a feeling she'd never had before, well -- it wasn't a feeling at all. Loneliness, that would be a better explanation. There was times where she'd been alone and wasn't lonesome, a time where she knew she had others out there waiting for her again, to brighten her day and make her smile.. for her to brighten their days, and make them smile as well. People to care about, to be cared for by. To love and be loved, hold and to be held, but not anymore. No, she was just sitting here alone near the edge of a small Lake in mid-day, where others may be wandering about the town in their daily lives she'd chosen to allow time to stop for her, if even for just one day. She'd been here for hours already and no one really seemed to have taken notice. But who would, exactly? What was she expecting to occur? They wouldn't come for her, they didn't care...

"That's selfish, stop it."

She hated being like this. There wasn't anything in the world she actually felt hatred for, but this.. it was worse then being sick, it was like the inside of her heart was dying and she couldn't do a thing to stop it. She almost wanted someone to blame, someone to yell to, someone to finally let everything out toward. It wasn't so easy trying to see the happier side of everything; she persevered and struggled onward through the tough times, and it still had gotten her absolutely nowhere. It was just.. discouraging. She had no hope left to continue her dream of reviving the drama club. The Festival had passed days before, and all of her time spent had simply been waiting for someone to take notice while she did all she could on her own. But no one ever did, no one even bothered to glance her way for a moment of interest.

She still had friends, though, right? It wasn't the end of the World, the people who'd helped her along the way wouldn't just forget about her... Would they? Well, what sort of situation was she in now to begin believing in her old friends coming back for no good reason even after they'd already graduated? Her heart skipped a beat before beginning to swell with pain and aching at the thought, she'd missed so much school again already. Knowing her luck, it'd happen again, and she'd be stuck in school for another year, all alone.. Maybe she should give up, go crawl away into some deep desolate hole, curl up, and.. die. She was so very tired of being left alone chasing her silly dreams.

Silly.. once they were true, bright, thriving dreams she saw begin to flourish before her very eyes, and the next moment they were just bittersweet memories she defined as silly. Her heart shattered into fractions of pieces so small she wasn't sure if she could define it in words; was there anything more far-gone then oblivion? At first she ran away, at the end of the school day she just ran, home. The overwhelming emotions that battered and bruised her very soul, letting all the hope and ambition gush out of her heart from the deep wounds they'd left behind. She couldn't even cry, or scream, not even a whimper. She just felt dead. She'd been depressed before, over whatever might have ailed her in the past, but this was crippling. People weren't supposed to feel this way, people were suppose to get through school, get careers, then have some mid-life crisis when they're older and able to cope.

Yet here she was suffering, just as painfully as could be. A small sigh slowly surpassed her lips, her hands reaching down to gently grip upon her knees and tug them upward toward her chest, her chin resting comfortably atop the crevice between. Her eyes peered outward into the shimmering crystalline horizon reflected on the water's surface, sunlight dancing over the small prisms and shimmering brief flashes of color here and there as ripples coursed through the lake from the gentle breeze. To anyone else, it was another beautiful afternoon to enjoy outside with family or friends, participating in some sort of fun activity. Though even with the sun high above, this was one her darkest days by far. The sight of the trees swaying blissfully in the wind, the leaves that occasionally fluttered outward to be whisked away through the air, the smell of sweet spring air that use to bring a rush of joy and calm to her heart, now did little more then serve as a grim reminder of how pointless her beliefs could be.

Nagisa allowed herself to gradually tip backwards, until she finally came to rest upon her back over the crisp green grass, arms spread partially beside her in a lazy fashion as her gaze settled upward on the monolith of blue and white known as The Sky, painted with fluffy white clouds that spread a bit of shadow rather slowly across different parts of the earth. She tilted her head a little to look at a smaller, more frail looking cloud rather distant from the others. Floating on its own almost aimlessly through the wide open sky. She wondered if clouds ever tried to accomplish hopeless tasks on their own, and if they ended up having to face grave disappointment after all the effort they put into trying to make things work out for everyone. She doubted it highly, but it was still an interesting thought.

Her eyes finally drifted shut once more, lids sliding downward and darkening her vision as the temptation of slumber called to her. Its voice so soft and inviting, and she was anything but hesitant to accept its welcome. Nestled comfortably in a lounging position upon the ground, she allowed the dim world of sleep to envelope her, and send her drifting off toward hopefully much more blissful dreams then those she'd had to let go of in recent time. Amidst the other people wandering about their lives with happiness or purpose, she remained as an unknown outsider to the common-natured sense of invigoration, and only continued to try pushing herself onward through this miserable fit of heart-break and harsh realizations. She murmured something softly, just before her mind was claimed.

"..Anpan.."