Post by yuki on Jul 21, 2009 16:03:59 GMT -6
::Miyazawa Yukine::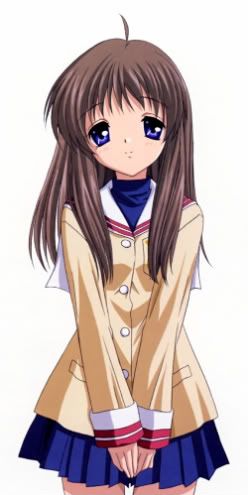 Type:
Canon
Age:
16
Gender:
Female
Sexuality:
Heterosexual
Crushes:
None
Face Claim:
Yukine Miyazawa - Clannad
Description:
Yukine is a very small second year girl. At times it's easy to mistake her for a first year considering her small stature. But such things don't particularly bother the smiling girl. Unlike most Japanese girls, Yukine was born with dirty blonde hair. It's mid-length going slightly past her shoulders. Her hair is kept fairly nice and neat but there's one hair on the top of her head that never wants to go down. Luckily, Yukine's not really someone to stress over such a small thing. Her eyes are a dark blue, which is another uncommon Japanese trait. Her natural hair and eye color might suggest she has some European ancestry, but it's not something she can confirm. She always has a calm or happy expression on her face, but he eyes always seem to be a bit dulled, making others wonder if there's more on her mind than she leads on.

Yukine is usually in her school uniform since she spends most of her time at school. Her outside social life sometimes likes to appear during school hours, so she doesn't have time to go about and change clothes. Her sweater is always buttoned up and her blue skirt is kept nice and neat. Her small size makes the sleeves of her uniform reach a bit longer than normal, which is why she prefers the summer uniform over the winter one. With her uniform, Yukine usually wears short white socks and normal brown loafers since they're both comfortable. She's not a very stylish girl so there's nothing particularly fancy about her clothes.

As for outside of school attire, Yukine wears a lot of yellow. She likes the color yellow so she'll wear a yellow shirt or dress during normal times. She prefers skirts over shorts and dresses over pants for her normal attire. Once again, she's not someone into high fashion, so her clothing isn't really flamboyant or anything like that. In a crowd, the girl doesn't stand out at all.
[/size]
Personality:
Caring and Helpful
Yukine is a very caring girl. She doesn't like to see others hurt or sad, so she tries her hardness to help them. Whenever someone stumbles into the reference room with a problem, Yukine is always ready to be a gracious hostess. Most things in the reference room are put inside the area and completely disregarded, making it very complete hidden haven. There are first aid kits, warming pans, books, tea pots, and several other things in the small room. The girl ends up welcoming guest with a cup of tea or coffee as she listens to their problems. She's not one to turn someone away because they come off brash or rude, and Yukine always has a smile on her cheer face. Most people find her just comforting to be around.

Wonderful Cook
It seems Yukine is a fairly good cook. Her specialty is rice pilaf. Her food is fairly good because of all the love she puts into her dishes. Usually, she ends up cooking to comfort people or bring others together like family. Little Yukine enjoys how something as simple as rice can have a wonderful effect on people.

Odd
Yukine can come off a little odd when first met. She often suggest spells from magic books when people come to her with a problem. Strangely enough, her spells happen to be one hundred percent accurate despite how odd they might sound. It's also fairly strange for someone who seems a bit quiet and shy to be the "Big Sis" of the two gangs in town. Even so, Yukine would never deny she's friends with members of both sets of delinquents. She finds something good in all people.
[/size]
Histoy:
Sixteen years ago, Yukine was born to the Miyazawa family. She was the youngest child; second only to a boy they have five years before her named Kazuto. Despite their age different, Yukine was very close to her brother through her younger years. The boy was always kind and took good care of the little girl. Whenever she was worried or troubled, Kazuto would put her head in his lap and stroke her hair until her troubles melted away and she fell asleep. He was a wonderful brother. Whenever she was teased, the blonde boy would appear from nowhere to beat up the bullies and save the day. He was always gentle looking and very sweet, and Yukine depended on him quite a bit.

In middle school, the bullying began to stop, but Kazuto had already begun to change. The nineteen year old boy stayed out all night and always got in fights with his parents. Eventually, the boy left one night, screaming he'd never come back again. Life went on like nothing happened in the Miyazawa household, but Yukine felt conflicted. The girl truly loved her brother, but over the years she began to feel scared of Kazuto. He was no longer the kind looking boy that looked after her. Time had changed him from a gentle boy to a scary ruffian. Deeply saddened by his departure from the household, Yukine could never bring herself to go visit her older brother out of fear. Her dear brother and his friends looked much too violent to ever associate with.

It wasn't until she got into high school when things began to change. One day while heading home, Yukine received a call about her brother being hit by a car. The male was staying in the hospital in critical care. Yukine rushed to her brother's side, completely forgetting about the fear she once abhorred for the boy. The doctors explained Kazuto was hit by a car while trying to save a friend. Sadly, his injures were much too serious and they didn't think he would make it. While they had repaired his body the best they could, the severe trauma of it all had put his whole body in shock. Kazuto struggled for a day before his body gave out. Two days later, Kazuto's funeral was held. Yukine was the only there crying since her parents had given up on the man and his friends were never notified. While in mourning, the tiny girl was approached by some rough looking delinquents while heading to school. They were apparently looking for her brother. The boys were so beat up they could hardly talk. Instead of telling them what happened, she took the boys to the library's reference room patched them up. As she cooked them some food, the boys explained the gang war her brother had been leading.

Regardless of how scary Kazuto had grown up to become, he was still the same caring boy. Her brother was the leader of one of the two gangs in their small town. But he was an honorable gang leader. He never ganged up on others or used underhanded tactics. Kazuto had fought fairly and had won the respect of the other gang. While that didn't put an end to their fighting, it made sure the turf war didn't go out of control. Non-gang members were never put in harm's way and they made sure to hold their fights somewhere away from most of the town so nothing would get thrashed. Kazuto made sure to keep everyone on track essentially. After hearing this, Yukine couldn't bring herself to tell the others what happened to Kazuto. Instead she lied and told everyone he was still recovering in the hospital from the accident. If the others knew, the fighting might start up again and she didn't want that to happen. Regardless of how scary looking the gang members were, they were good people. Eventually, Yukine made an effort to meet her brother's gang to try to understand things better. They were all good people. Even the rival gang members were truly nice people. But neither side wanted to stop fighting. It seemed it was up to Yukine to find a way to make sure her brother rested in peace. He had worked so hard to keep this city and his gang safe, and she couldn't like that peacefulness be destroyed. At first, she looked to charm books in hopes they would have some type of spell to end fights, but that didn't seem to be the case. Instead, she used her sweet nature to make sure neither side ended up to hurt. Oddly, it made both gangs respect her and come to her for help, but it didn't end the fighting. But it didn't escalate either. As long as both sides thought Kazuto was waiting in the wings, they behaved themselves.
[/size]
Controller's Information
Nickname:
Selene
Age:
>.>
Gender:
Female
Seen the Anime/Played the Game?:
Anime only.
How Did You Find Us?:
Already a member! <3
Sample RP:
Check out Kotomi's posts