Post by selene on Jul 17, 2010 0:58:37 GMT -6
:: Ichinose Kotomi::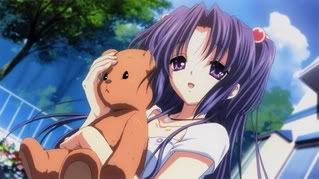 Type:
Canon
Age:
17
Gender:
Female
Sexuality:
Heterosexual
Crushes:
None
Face Claim:
Kotomi Ichinose - Clannad
Description:
Kotomi is an average teen girl for the most part. She has long dark hair that looks essentially purple in the sun. She never cuts her hair so it's grown quite uneven over the years. Her bangs fall at different lengths around her face, some just reaching her eyes while other strands frame her face. Her mane is quite thick and through she tries to put it in two pigtails, the majority of her hair falls down to her back. It's not insanely long since it only reaches her midback, but it's not really something she keeps track of. Kotomi has fairly large lavender eyes which always convey her emotions. When she's happy, they sparkle with delight; when she sad, they half open and fighting tears; and when she's upset, they're open wide with the look of fear. She's never learned to hide her true feelings, but she's never had a reason throughout the years.

Physically, Kotomi looks like fully developed teen. She stands at the average height of five feet and two inches. Her shoes give her one more inch making it easier to stretch up to get to hard to reach places. She has a nice creamy complex since she typically stays indoors. While Kotomi looks as light as a feather, she actually weighs a bit more than anyone would guess. Being one hundred and ten pounds isn't really heavy by most standards, but the extra weight comes from her most disproportionate asset.

As for clothing, Kotomi is typically wearing her school uniform; which consist of a blue turtleneck sweater, blue jacket, and yellow jacket. She doesn't try to break rules by wearing her uniform any odd type of way. Her jacket is always on and buttoned up completely and her skirt isn't longer or shorter than normal. It's a uniform and meant to create uniformity among students. She knows that. Typically, she wears dark blue knee high socks with her uniform as well. Her shoes aren't anything special. Kotomi wears a pair of brown loafers; they're comfortable and almost match and that's really all that's important to her.

Outside of school, Kotomi's more than likely in some type of dress or skirt and shirt combination. She doesn't particular care for pants or shorts since she finds them a bit restrictive. She's really a very physical person either so there's really no need for them in her life. Besides, her parents always brought her very pretty dresses when she was little so she just likes to wear what she thinks they would be happy to see her in.
[/size]
Personality:
Japan's Top Ten
Thanks to Kotomi's favorite hobby, the girl has ranked amongst the in country's top ten in every subject. She's a certifiable genius! She's a walking, talking dictionary for the most part. All one has to do is ask her a question and she's more than happy to answer and give background information the answer. For the most part, no one wants to play quizmaster games with her since it's pretty hard to stomp her. Instead, she's left alone to her own self studies. Even in school teachers don't seem to require her to attend class since she knows far beyond the reaches of the curriculum. Instead, she's scouted out by school aboard that wish to challenge her thirst for knowledge; not that she wants something like that. Kotomi has a hidden fear of flights.
Withdrawn From Society
Because of the incident with her parents, Kotomi withdrew to books to find some sort of bond with her dearly departed parents. As such, she was able to become a very intelligent girl; but at the same time books don't provide social experiences. The only friends she's ever had were the ones from childhood, and she's never seen them since the accident. There's no social interaction with classmates since she's rarely ever in class. There's just no need for her to be there. And since she's in no clubs, she has no chance to mingle with others there as well. In short, the girl is withdrawn from society but not a social reject. Since she has no real skills talking to others, Kotomi comes off as shy, but it's really the case. In fact, she has no problem talking to others. The real problem is understanding her; casual small talk can lead to her discussion into complex theories or periods in history that only she sees the relevance to.
Friendly and Honest
While she might be socially withdrawn, she is a very friendly person. Anyone who dares to come and speak to the small girl is usually greeted with a smile. Her current life makes her a very happy person. She gets to read the books she enjoys so much without interruption and well as live in the home has had since childhood. Along with her friendliness comes honesty. The lack of social interactions has made her brutally honest to a fault. She doesn't understand the concept of lying to spare others feelings since she can't understand how the truth could hurt someone. Knowledge is truth and thus absolute in her life. She really doesn't mean to be harsh or mean, but it is best never to task if something taste good or horrible because she will tell the truth with no disregard to the person's feelings. It's just how she is.
Deep Emotional Scars
Kotomi's sole reason for withdrawing into books is because of her parents' untimely death. The accident left a dark feeling within her that she was much too scared to ever confront. The thought of having to lose someone that important to her ever again drives her to the point of insanity. There was just too much hurt and too much pain when she got the news that her parents were never coming home. To this day, the man who brought the news to her is associated with bad in her head. He is a bad man. Only a bad man could come and tell her that her beloved mother and father could never come back into her life. It's also why she's happy not to have people who she can consider friends. If she doesn't have someone she deeply cares about, then she doesn't have to worry about losing them too. Being alone with the books that will never forsake her gives her piece of mind.

[/size]
History:

Kotomi Ichinose was born into a world full of love. Her parents both loved her dearly. They named her Kotomi, beautiful harp; which her parents explained that the world was made up of harps that cannot be seen with the naked eye. She was the composition of several harps arranged beautifully. Her mother even added that the word Kotomi is made of three cute higana letters. She was their cute Kotomi. Her parents were both brilliant scientists, and thus the introduced their beloved child into a world of knowledge and wonder. She loved her parents dearly and always opted to be with them over with her friends. They continued to teach their little Kotomi about the world, big and small. Those years with her parents were the best time in her life. Everyone was happy, and there was so much love in her world.

One day while sitting at home with her parents, a mysterious boy appeared in her backyard. He was chased a butterfly and somehow ended up in the family's garden. After some introductions, the two became fairly close friends. His name was Tomoya. He started to come by her house just about every day. The two played games at her house and she tried to teach him about things since her parents always felt it important to educate her. She explained to him all the different flowers that grew in their garden and how they were important to the planet and even how plants survived. It all seemed above his head, but the two laughed it off and went about like usual. Tomoya was her dear and special friend, and she loved spending time with him. She even invited him to come and enjoy her birthday party with her parents at her house, which he agreed to.

But right before her birthday, her mother and father were called away aboard to a very important business meeting. The couple promised to get their daughter to buy her a large bear before they returned and ship it to their beloved child. But such a promise was meaningless to little Kotomi. Her parents were more important than any gift or meeting. But despite her protests, the couple left and headed off to their plane. On her birthday, Kotomi sat in her living room alone. Her dear friend Tomoya never arrived; instead she received a visit from a bad man. The strange who arrived was an associate of their parents. The man wanted to come inside to inspect the house. He explained how the airplane that Kotomi's parents had board somehow malfunctioned midflight. Aboard with them were very important documents. These documents were not only important to him, but the whole world. The little girl couldn't grasp the concept of papers; all she knew were her beloved parents had died and her last words to them before they left were "I hate you both!" Slamming the door closed, Kotomi fell to her knees as she tried to cover her ears in hopes of hearing nothing more bad. But the thoughts wouldn't disappear. Instead, she ran off to the living room and knelt down towards the sun. The small child clasped her hands and began to pray.

"I'll become a very good girl from now on. I will never say anything selfish anymore. I'll study a lot, too. I'll read lot of books and become smart too. So dear God, I beg you. Please bring Father and Mother back to me."

The young girl stayed up watching news coverage of the crash. There had been search parties sent out to find any survivors, but judging from the devastated state the plane was found and the location in the ocean, chances were slim. In the end, her parents weren't apart of the few people they found. The whole thought had to be a dream. Kotomi wondered around her house, looking for her parents. She cried out their name, looking from room to room. There wasn't any sign of them. The last room she checked was her Father's study. All her life she was told never to go into that room. It was so neat and tidy. On his desk sat a document protected in a folder. It looked so important that it had to be what the bad man was looking for. This paper was the cause of all her problems. This paper took away her beloved family. And so she took one of her father's matches and put it in a tray then set the paper on fire. Unfortunately, some of the document fell to the ground. The room began to catch on fire. Like a knight in shining armor, Tomoya arrived and stopped the blaze from consuming the house, but Kotomi was already beyond reach. After that day, he never came back.

But Kotomi didn't forget her promise to God; in hopes somehow her parents would be returned to her, she studied and became consumed with books. People and friends were never important to her, just books. She couldn't take the thought of losing someone else as important to her as her parents, so it was better this way. All she needed to be was a good girl and very smart, and then maybe God would be kind enough to return her parents in some fashion. Years went on and she was recognized for her brilliance. In every subject Kotomi achieved outstanding marks, putting her at the national top ten in Japan. She always made sure to be nice and friendly to others and stayed away from being self. She spent her free time studying and always had her face in a book. The girl did everything that she promised God. Teachers eventually told her she didn't need to come to class except for test, allowing her to continue her private studies in the library. The only bad thing that lingered about in her life was her 'legal guardian,' the same bad man who brought her news of her parents' accident. While he did pay for everything and make sure she could stay in her beloved home, he still was a bad person in her eyes and she could never forgive him. No good person would take her parents away from her like that.
[/size]
Controller's Information
Nickname:
Selene
Age:
25 now
Gender:
Female
Seen the Anime/Played the Game?:
Anime Only, Sorry.
How Did You Find Us?:
Whammy Stalked Me...
Sample RP:
Kotomi sighed with relief as the strange girl revealed she indeed was not a bully. She even claimed to be the opposite of an antagonizer. This girl was a hero? Kotomi lavender eyes seemed to be even more confused. How could someone claim to be a hero? Actually, she had read about several different self-proclaimed heroes in fictions. Such characters were completely unreliable. They were very selfish and boastful but completely cowardly. They usually led the hero astray with their antics, always trying to outdo them to feed their own egos. But in the end, the hero of the story would come out on top and the self-proclaimed hero was left either feeling bitter enough to become the true antagonist, or to change their ways. Luckily, Kotomi was no heroine. She was just an average school girl, thus she was safe from any ill feelings this person could potentially develop. But…this person was weird. It was apparent she liked to talk in third person, but that didn't bother Kotomi too much. Talking in first or third person was just someone's outlook in life. But when people talked in their person, they usually had inflated egos. It supported the self-proclaimed theory Kotomi had developed about this Fuko person.

But Fuko wasn't strange for talking in their person…she was strange because she was calling Kotomi, Ghost Girl.

The dark haired girl sat there for a moment as she tried to work out a reason in her mind. Did this little ninja girl assume she was a banshee because she screamed earlier? While that was a likely scenario, her screams would have signified the foreshadowed death of someone in this school. Kotomi certainly wouldn't scream if she were a banshee, so no one would have to die. The death of a loved one was such a tragedy, and the kindhearted girl never wished such grief on anyone. It was much too hard to endure for the young lady, even if it happened so many years ago. Still, that was a horrible assumption. She didn't randomly wail. Kotomi clearly yelled the word pervert because one was trying to touch her. Her unnatural action deeply rooted in logic. If a pervert wasn't trying to touch her, she would have never screamed. And it was impossible for her to be an yurei. Kotomi was clearly in her school uniform and not a ceremonial white dress or kimono. Plus there was no wisping flames about her.

"I'm not a ghost," she interjected before Fuko explained why she wanted Kotomi to accept the wooden craving. The small girl pushed the wooden figure in her hands and Kotomi held on to it. For a moment, she was too distracted on what she just accepted to continue her correct. The senior girl surely didn't save this Fuko girl from any loud person. She was lucky the pervert left the library before he could do anything inappropriate. Kotomi was no fighter. She had no physical strength and no self-defense training. If someone were to act too forceful with her, then she would be doomed in that situation. The excitable young girl continued on, explaining that the oddly shaped block of wood was a sea star. "Starfish? Asteroidea...?" She looked down at the craving with a serious face. It was symmetrical, but the craving was too smooth to be any type of echinoderms. In fact, the word echinoderms meant spiny skin. It was supposed to be a bit prickly or at least bumpy. This was not an accurate craving of a starfish.

The bright eyed girl wanted Kotomi to hug the craving. Given her very energetic personality, it was best not to fight with the girl. Causing some sort of conflict could only lead to a bad scenario. Kotomi pushed the starfish towards her chest and laced her fingers around the wood. She didn't put tons of enthusiasm or wrap her body around the figure like the strange girl before her. Oddly enough, there was no protesting or objections; instead the gray haired girl was smiling and blushing slightly. Kotomi just stared at her euphoric expression for a bit till she stared blushing too. For some reason, she felt slightly ashamed for studying the younger girl when she looked like that. There was something about that exhilarated expression that led Kotomi to believe that she was enjoying something very private. Instead of bothering her, she slipped the wooden block into her bag and contemplated on her next course of action.

There was nothing wrong with congratulating someone on their wedding. It was always best to wish a newly married couple a successful life together. The only problem was Kotomi had no idea whom Fuko was and who was this sister she wanted Kotomi to wish a happy life to. The dark haired girl finally rose to her feet and stretched out a bit. She looked down at the smaller girl and shyly tapped her on the shoulder. "Umm, excuse me Fuko chan…" she started with a bit of hesitation. "Who is your sister? And when am I congratulating her?" Kotomi stared at the strange girl for a bit as she continued with her daydream. Just what was she thinking in that mind of hers? From her affections towards starfish, Kotomi logically assumed it had something to do with hugging one since her arms were still around the object. Still, it was important she got those two answers from the tiny younger classman if she really was going to fulfill the girl's request.

"Umm, Fuko chan?" she said again, poking the girl in the cheek this time. "Should I come back at another time?"